All over the world, soccer is well known as 'the beautiful game', and it's a relatively easy sport to get involved in — after all, it basically just needs a soccer ball (football), and away you go.
But when it comes to getting more into the sport, what equipment do you need, and how much does it cost?
In general, soccer players need a ball (also called a football) to play games at home. For leagues, they will also need shin guards (shin pads), sturdy shoes or cleats, comfortable clothes or a uniform, and possibly goalie gloves. Higher leagues usually require more equipment.
Luckily for you, we've got all the answers, and more! So keep reading and let's talk about soccer equipment – the necessities, the costs, and alternatives.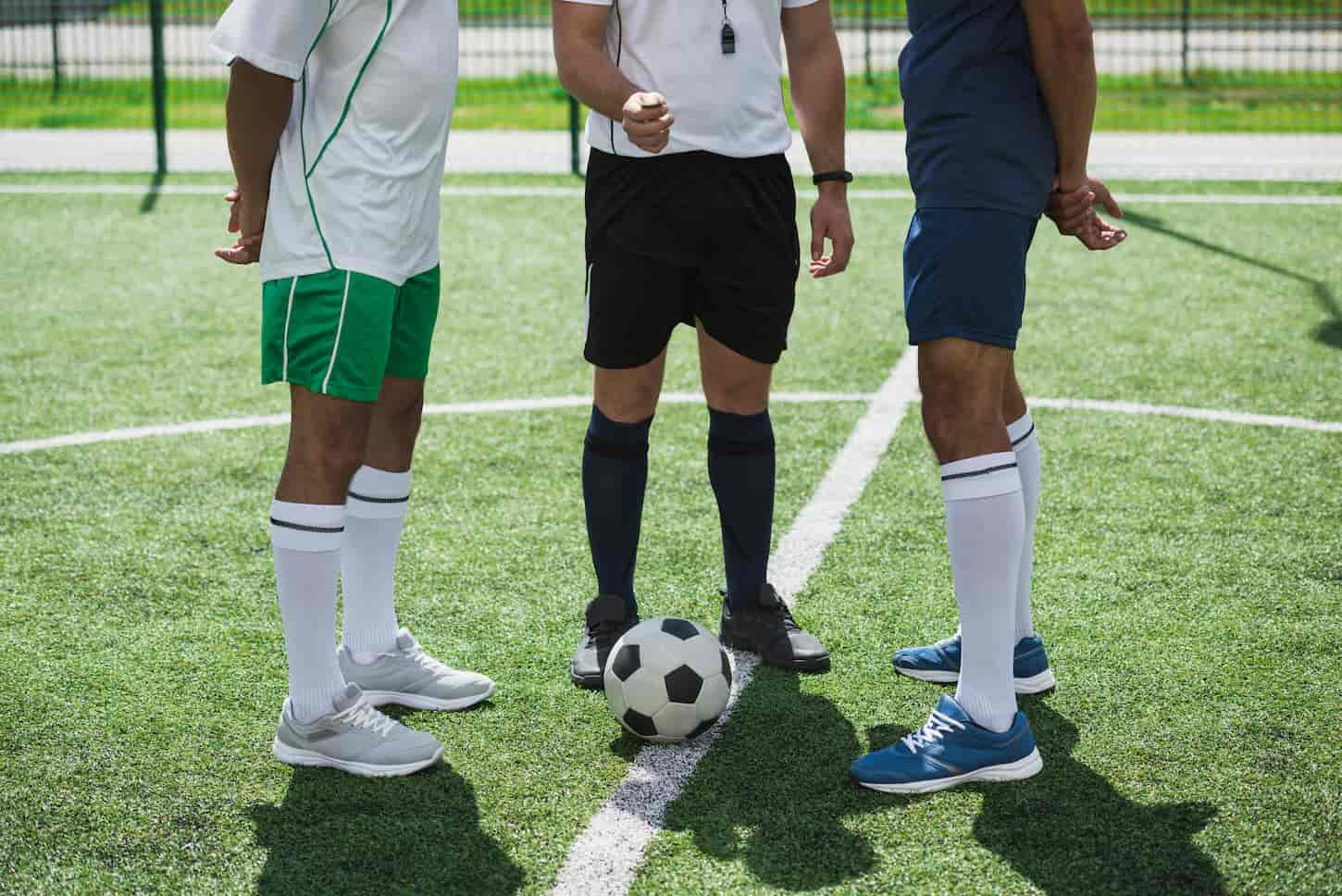 What Equipment do Soccer Players Need?
When you're playing soccer, where you play will influence the type of gear that you need.
For example, you're going to need a lot more gear if you're playing a league game than if it's just a pickup game in the yard.
What Size Soccer Ball to Get for Children Playing Soccer?
Smaller kids need a smaller ball. At least, they do if they're wanting to play in youth leagues. If they're just playing at home, then use whatever sized ball you've already got on hand.
Or if you want to buy them a new ball, here are the sizes to look at.
Soccer Ball
Ages
Ball Size (Circumference)
Also Used For
Size 1 Skills Ball
Under 3
18-20 inches
46-51 cm
Skill development for older players
Size 2
3-5 years old
20-22 inches
51-56 cm
This size tends to get skipped and can be difficult to find in my experience.
Size 3 Junior Ball
5-10 years old
U8 and down
23-24 inches
58.5-61 cm
Most city rec leagues use a size 3 ball through grade 5
Size 4 Youth Ball
8-12 years old
U8-U12
25-26 inches
63.5-66 cm
Older kids play with this ball size
Size 5 Adult/Pro Ball
12+
27-28 inches
High school kids use a size 5
Ball size information based on way too many questions asked of other parents on Saturday mornings at soccer with our kids.
If you're just getting started with soccer, don't feel like you need to buy a ball of every size for your family.
Some city or rec leagues will give your child a free ball when they sign up to play. If they do, it'll be stated in the sign-up information. If they don't say there's a free ball, then it's safer to assume there isn't one.
Even so, it's not uncommon for players and families to wait for the first day of the league to find out if they need a ball – and to find out what size they need. But more on rec stuff in a bit.
Equipment for Playing a Pickup Game at Home or With Friends
Setting up a game of soccer at home is pretty simple. All you're going to need is a ball and something to mark or make goalposts out of.
Your goalposts don't have to be fancy.
Many people even just chuck down something on the floor to mark the posts, whether that's a rock or a sweater, and leave it up to common understanding to decide whether a flying ball was a goal or not, or whether you're off the side of the pitch!
As far as shin guards and cleats? Those are totally optional. You can just as easily play in whatever sneakers you're already wearing. Or go for the barefoot look while playing – just make sure the grass is cleared first of any dog poop if you've got a dog.
Equipment for Playing in a Youth League
As soon as you're playing real soccer, you're going to have to invest in a few essentials. Even at the youth level, many coaches will not let you play without these items.
#1: Get a soccer ball for practice.
Although your team will almost certainly provide plenty at training, it can be a good idea to buy a ball to practice with at home. Like everything on the list, there's a huge price range — but for beginners just find something you like enough to keep you practicing and motivated!
You may need to make sure you get the right-sized youth ball for your child. Feel free to double-check with the league if a ball is provided.
#2: Players need solid pair of shoes or soccer cleats.
Depending on your child's age and the league they're playing in, they will either need a good set of sneakers (athletic shoes) or soccer cleats. For most rec leagues, cleats aren't a must until your child is 8+. Even then, there are still some kids on the 8 to 10-year-old teams that don't wear or use cleats.
Cleats themselves come in many different types, such as plastic or leather, and with a variety of metal or plastic studs on the bottom of the cleat.
Try to consider the surface you're playing on when looking at shoe options; studs marked 'soft ground' are longer, and more suitable for wet grass pitches, whereas if you're likely to only be playing on artificial or dry grass surfaces then 'firm ground' studs, which are shorter, maybe more appropriate.
It's also possible to buy cleats with a moulded plastic set of studs on the bottom. These can be a great cheaper option, especially as they're lighter than metal studs, but are also less durable and can become sharpened over time, which will be disallowed by a referee meaning that you'll need to buy a whole new pair of cleats rather than just replace studs.
As a beginner, you won't need fancy $300 cleats. The best advice is just to go to a sports shop and find what feels most comfortable within your budget. In the past, I've found pairs for less than $30 that have lasted plenty long enough and done the job well.
#3: Get good shin guards (shin pads).
You'll also need to pick up shin pads (also known as shin guards).
These are plastic protection for the front of your leg. These are pretty cheap (they can be got for less than $20, and there's not a huge difference between qualities like as with cleats.
However, once you have these you'll be thankful once the other players' feet come flying your way!
Keep in mind that shin guards also come in different sizes. Ideally, get the right size shin pads for your player's height. The brands should come with a guide for sizing them correctly.
#4: Get goalie gloves for your goalie (optional based on your league).
If you play as a goalkeeper, you may want a pair of goalie gloves.
These are soft padded gloves that protect your hand from the ball, which can really sting when it's wet and flying towards you at a hundred miles an hour!
Again, these can vary wildly in price, but as a beginner just get something that fits and you'll develop preferences as you improve.
#5: Wear the right clothing.
Other than this, you'll need to pick up long sports socks (normally long enough to cover the whole shin pad), a pair of shorts, and good quality sports shirts.
Although, let's get real. Some kids won't wear the long socks no matter what you do. They're just going to wear short socks and their shin guards will be on full display for everyone watching the game. So if you're in that camp? I salute you. We've been there, too.
Dependent on how serious your team is, you may be provided with these (as well as a game shirt), but it will always be useful to have good quality sportswear to wear to training sessions (and for when you inevitably lose your other kit!).
Equipment for Playing Club Level Soccer
The good news is that this equipment doesn't really vary as you get more into the sport!
While you may choose to upgrade your equipment as you take it more seriously, or get hold of more training kit (that your team will provide at trainings) for practising at home, you won't have any necessary costs kit-wise other than just replacing worn or outgrown clothing.
Many clubs will provide kit, and incorporate this cost into the overall cost of their program.
How Much Does Soccer Equipment Cost?
Beginners can safely budget $150 as an absolute maximum for picking up entry-level, good-quality soccer equipment.
For budget shoppers, that $150 may be enough to cover rec league fees, too.
A real strength of this sport is that most soccer equipment can be picked up for relatively low costs, although you might choose to invest in more serious equipment as you improve.
Even so, here's what we usually spend on equipment.
Soccer ball – $15-25 per ball
Soccer cleats – $30 per pair
Shin pads (shin guards) – $15-20 per set
Uniforms – included with rec league fees (more on league fees later)
If you want to buy more serious training equipment for your home, you might be looking to make more of an investment. A basic set of goalposts, for example, will cost between $25 and $75, while training cones are likely to cost under $10.
How Much does it Cost to Play Youth Soccer?
The parks and recreation department here in Kaysville, Utah, charges between $60 and $100 per child for a split season (fall and spring) of soccer.
Younger children and residents are on the lower end of that range, while older youth and non-residents can expect to pay more.
This price includes weekly games and one practice session per week with a volunteer coach during the scheduled seasons. It's a split season because it gets hard to play outdoor soccer once the snow starts.
Now, keep in mind that some cities charge more for non-residents. So for us, we can usually pay about $60 per child for a full season. There is not a multi-child discount.
If I wanted a lower price for rec leagues, I could do just fall or just spring seasons. It's not always available, but it is sometimes an option. It tends to be just over half of the full-season fees.
If your local city doesn't offer rec soccer, don't worry. There are programs like YSA (Youth Soccer Association) that have a nationwide presence so you can play with them. They also use volunteer coaches. Their seasons and pricing vary by location.
But for reference, my kids could play a split-season (fall and spring) with both practices and games on Saturdays. They usually have a short practice before the game – at least for younger kids. We usually transitioned to city soccer by about age 6.
A season with YSA costs about $100 – and that came with a uniform (jersey, shorts, and socks).
There are also various outdoor and indoor soccer clubs. Some of these clubs offer indoor soccer as a way to get around weather conditions. The most expensive soccer clubs for kids will charge membership fees of up to $100-$150 or more per month.
It's worth mentioning that if your child is a real soccer talent, you might find them scouted by a youth academy. Soccer still isn't as popular here yet, but it's getting there. We're not quite to the European level, though. In Europe, players in these academies not only have everything provided (including in some cases family accommodation) but also a salary!
Club soccer costs
At the club level, things become more expensive, again with an emphasis on older age groups. Wasatch Soccer, a local team in Utah, charges $500 per season (all inclusive) for the under 8 team.
These costs rise to closer to $800 for the 15+ age group, with extra costs not included for professional coaching and kits (though more about this in a second).
These prices are pretty representative, with most teams in Utah charging between $450 and $800 for registration fees (source).
Club soccer will also involve away games. At a high level, these will involve a fair amount of travel, so be prepared to budget for the costs of spending the occasional night away to be able to play all the matches!
How Much do Uniforms Cost?
While recreational soccer teams might provide a uniform in the registration fee, others may allow you just to buy clothing of the right color.
More serious clubs will ask you to pay for branded kit. At Wasatch Soccer, the cost of this is $260 (though discounts are provided for families with multiple children).
If the cost of the kit is putting you off, though, consider getting in touch with the team, as at the end of the day sports teams are largely volunteer-run organizations just looking to get people involved.
Other teams generally charge between $150 and $300 for kits, depending on how much equipment they provide — however it is likely that for this money they provide all the jerseys, shorts, and socks that you need in the course of a normal week with training and a game.
You'll just need to provide cleats and shin guards yourself.
How Much does it Cost to Play High School Coccer?
Although a cheaper option, high school fees vary even more than club fees, as while registration fees are cheap (between $30 and $100, though in extreme cases they have known to be $150) but the school program might offer optional extras such as training camps and extra kit.
The best advice for a parent new to getting involved in high school soccer is to be upfront and ask to know costs in advance to avoid any extras appearing later in the season.
Don't forget that very few soccer programs run in profit, as the primary objective is to get people playing.
Soccer can be played very cheaply with basic equipment, so if costs become high get in touch with a coach, who is very likely to be able to offer you some help to keep people playing!
Alternative Ways to Get Soccer Equipment
Now, if cost is an issue, remember that there are other options. Here are a few tricks we've used to keep our sports costs down.
Tip #1: Use hand-me-downs and recycle gear.
Instead of buying new cleats all the time, use hand-me-downs from friends, family, relatives, or older children.
Kids usually outgrow cleats long before they trash them, so it's definitely possible to use a single pair of cleats with multiple children. In fact, we've got several pairs that have made it through four kids – and are still just fine.
If you don't have an older children who've already done soccer, then ask friends and neighbors if they have some cleats you can buy at a discount or use for a season. If they don't have any, don't forget to look at your local thrift stores.
There is always a crazy amount of sports gear at the thrift stores we shop at. And most of it is still really good quality. Just for reference, we recently bought 3 good-looking, totally functional tennis rackets (for tennis camp) for $2 apiece.
Tip #2: Don't buy the optional stuff.
Look, it's just not necessary to have some of the gear for lower level leagues and younger children. My four-year-old daughter doesn't need cleats. Not only do we not have any in her size, but I'm not going to go buy any, either.
She can play soccer just fine in her regular tennis shoes for the time being. If she decides to stick with soccer as she grows, she's got several pairs of cleats she can inherit from her brothers. They won't be pink, but they'll work just fine.
Similarly, I've never bought a pair of goalie gloves. They've not been on my radar until my friend pointed out that they're a nice thing to have for older children who keep playing soccer.
Tip #3: Take a "wait and see" approach.
Finally, it's okay to wait and see. Wait and see if the league includes any equipment with the sign-up fees. Things that sometimes get included are:
Soccer balls (footballs) for learning leagues for kids under 5
Uniforms (jerseys, shorts, and team-colored socks) for rec leagues
Final Thoughts on Soccer Equipment
Watching our kids play soccer has been a lot of fun. We've made some crazy memories on the field. When our kids were playing soccer before the age of 6, we made these memories.
We've had a boy who accidentally got a goal when a stray ball bounced off his face and into the goal.
We've had kids cry because they didn't get a turn with the ball.
And as our kids got older, it's been fun watching them learn how to play the game, work with their team, and have fun being active.
We're still by no means soccer experts (in fact, I think I'm still fuzzy on some of the finer rules – I'll have to re-learn them for next season).
But we do enjoy playing it with our kids in the backyard – and teaching them to be good sports and good team members.
So get out there and enjoy making some memories with your family – whether it's at home, on a rec league field, or a professional pitch. Ole!