Archery is a fun and safe activity for adults and kids, especially teens. Teenagers are stereotypically seen as being at that age when playing video games or staring at their phones is a priority. So it's natural for parents to want their child to have an outdoor activity, and archery is a great sport to keep them engaged. But what safety gear is required for archers of any age?
The archery safety gear a teen will need depends on the type of archery they practice, but overall, the basics are the same for archers of any age. Always inspect safety gear, and follow archery safety rules.
Nowadays, archery safety gear has evolved so much that the risk of injuries is minimal. Not only the safety gear protects your teen, but it also improves the accuracy of performance. . But, first things first, let's talk about must-have safety gear. Read on to find out more!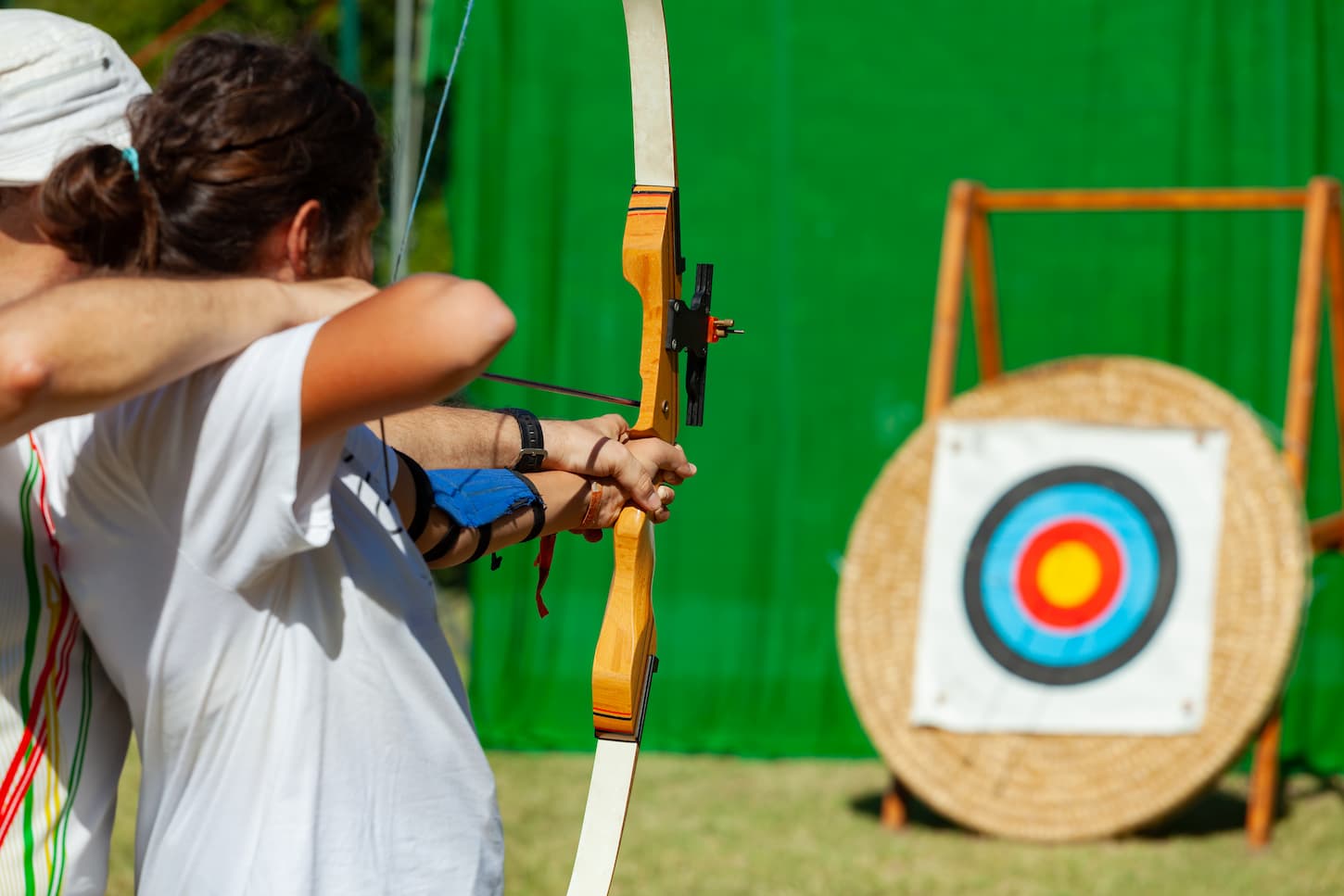 List of Archery Safety Gear All Teens Must Have
Along with the basic archery equipment, consider having this basic safety gear. This basic safety gear makes archery a lot safer and more enjoyable.
Arm guards (bracer)
Thumb rings
Finger tabs (archery gloves)
Safety harness
Chestguard
Arm guards (bracers)
When a teen is participating in archery, there is a possibility the bowstring will catch their arm once they release it. Needless to say, this is painful, and the teen will probably miss the target.
This is where the arm guard comes in handy. It will prevent them from feeling pain and ensure the arrow goes in the right direction.
Thumb rings
The thumb ring will protect the thumb while pulling the string back to the bow. It is excellent safety gear and comes in different materials, such as leather, plastic, metal, or even stone.
Archers will need a thumb ring and/or a finger tab to protect the fingers pulling back the string. They may not need both. What is needed is a personal preference based on their draw. New archers may want to try various setups, materials, and sizes combinations to discover their preferences.
Finger tab (archery gloves)
Thanks to the finger tab, our teens can successfully avoid finger injuries as they draw the bowstring. It protects the first and the second finger (and often the ring finger) from getting bruised while pulling the string. 
Safety harness
In archery, taking aim from a standing position on level ground is, in all actuality, a luxury. Sure, it's the most likely way to stand in training or competition.
However, if your archer will be using their gear while outdoors or in less structured environments, then there is a chance the teen will have to position themselves from up in a tree. To avoid losing balance or falling, consider a safety harness. It's another excellent safety gear that prevents hitting on the ground and getting severe injuries.
Chestguard
A chest guard is protective clothing worn over the chest where archers draw and hold the bow. When the string bounces back after a powerful release, a chest guard decreases injuries that might happen.
Best Products for Archery Safety Gear
Archery as a sport has developed so much in recent years. Due to the nature of the sport, there is a possibility of injuries. We'll also need safety gear to protect our teens from injuries, along with essential archery gear. Here is some of the best gear out there on the market right now.
For your convenience, the links below will open in new windows and take you to Amazon to see the products and their specifications. Before buying, we recommend you check these products out in person at your local sporting goods store. Then, be sure to shop around for the best prices possible.
The following products are our best picks for archery safety gear.
Best arm guards
Best thumb rings
Archers usually need a thumb ring or a finger tab to protect the fingers pulling back the string. It is a personal preference partly based on their draw.
During your draw, if most of your pressure goes onto your thumb, you'll want to focus on protecting your thumb with a thumb ring or a thumb tab.
Finger tab (archery gloves)
Archers generally need a thumb ring or a finger tab to protect the fingers pulling back the string. It is a personal preference partly based on their draw.
Most archery finger tabs only protect the three middle fingers (pointer, middle, and ring), though some finger tabs protect the thumb (usually only the thumb). You may want to try several styles and materials to see which works best for you.
Personally, I prefer archery gloves (finger tabs) over thumb rings. Generally, I don't like rings, but I can wear and deal with gloves. That's why I think I prefer archery gloves over thumb rings. That's me, though. Your mileage may vary!
Safety harness
Safety harnesses won't be needed for archers who stay out of trees. However, a safety harness can be an intelligent investment for any archer who also hunts or plans to use their archery skills while in a tree.
Chestguard
Best Types of Safety Gear: Follow the Rules
The importance of safety while practicing archery cannot be emphasized enough. Along with archery safety gear, there is another type of safety "gear" to be aware of: following archery safety rules.
Prevention is always the best way to avoid any injuries. Using safety gear is one of the two best ways to be safe, and the other is following archery safety rules. 
Believe it or not, some types of clothes aren't safe to wear, such as baggy clothes, scarves, hoods, and jewelry. You'll also want to be aware of your hairstyle when doing archery; you don't want your hair snagged in the bow!
Archery is one of the most unique sports out there. It has regulations and guidelines. When children are practicing archery, it is important for them to follow the safety rules. 
Archery has safety gear and rules, but it's one of the safest sports. Playing basketball will usually cause more injuries than archery. The crucial thing for staying safe is to follow the rules.
Archery safety rules
Have safety gear.
Always inspect archery equipment and safety gear before aiming.
Always point the bow in a safe direction and never at someone.
Be aware of your surroundings.
Always keep your arrow aimed at the ground.
Don't dry fire the bow.
Store your equipment correctly.
Have and use proper safety gear.
Safety gear is always a must. It doesn't matter if our teenagers are in a competition or casually practicing their form. They should always wear their safety gear! 
Always inspect archery equipment and safety gear before aiming.
If we have a terrible memory and can only remember one rule, this is the one to remember. Most injuries happen due to people's careless behavior. So, always ensure the equipment and safety gear are in good condition.
Always point the bow in a safe direction and never at someone.
Only release the arrow when no one is within range. Never point a bow at another person. Consider shouting "clear" when participants are done releasing arrows so that everyone knows it's safe to retrieve their arrows.
Be aware of your surroundings.
Always ensure no one is in front or behind when releasing your arrow. Know what is behind your target.
Always keep your arrow aimed at the ground.
While nocking, make sure your arrow is aimed down. We don't want to hurt anyone if we accidentally release an arrow before we've aimed properly at our target.
Don't dry fire the bow.
First, nock the arrow, then draw and release the bowstring. Otherwise, we can injure ourselves and others and damage the strings.
Store your equipment correctly.
Store arrows and bows safely and properly. Please don't leave them unsupervised, and make sure they are locked up.
Is Having the Right Kind of Bow Considered Safety Gear?
The bow is considered a part of essential archery equipment. To protect ourselves and others, it is important to correctly choose the right bow for a person's size, learn how to use it correctly, and maintain it properly. 
Above, we mentioned the general archery safety gear. Of course, the safety gear will vary depending on the type of archery the teen chooses. 
The bow belongs to regular archery equipment. But if we buy equipment unsuitable for our teens' size, dominant hand, and eye, they could injure themselves.
In some states, arrows and bows are considered to be firearms. So, check the local law first to follow the necessary regulations.
Choosing the right bow will depend on the type of archery your teen is interested in. Recreationally, two types of bows are mainly used:
Recurve bow
For beginners, recurve bows are very common. They are light in weight, so for a teen, they are a great option. Unlike compound bows, recurve ones aren't mechanized, for which our wallets will be thankful. They are usually the more budget-friendly option.
Compound bow
Compound bows are mechanized and heavier in weight. If a teen wants to learn bow hunting, these are a great choice because they have more power than recurve bows. These bows tend to be more expensive.
Key Takeaways and Next Steps
Archery is a beautiful sport; once teens try it, they will get hooked. It improves physical and mental development in kids. Because it has safety gear and rules, kids learn to be responsible and disciplined early on.
Following safety protocol in archery is a must. Once teens learn them, they will get used to them. Every sport has its risks of injury; archery is no different. 
Choose the right essential equipment, get the safety gear, and don't forget to learn the safety rules. The wrong archery equipment can cause injury and keep us from enjoying the sport. 
Archery is a friendly and accessible sport that can be practiced early. Kids will learn to take care of their equipment early and follow the safety rules. This way, they also learn how to care for themselves and others.
As parents, we should make sure our children practice the sport in a safe and suitable environment with appropriate instructions and support.
Resources
Learning from your own experiences is important, but learning from others is also smart. These are the sources used in this article and our research to be more informed as a family of sports nuts wannabes.
Archery For Kids And Teenagers – Here's Why It's A Good Idea. (2021, June 8). Avalance Adventure. https://avalancheadventure.co.uk/archery-for-kids-importance/
Archery Safety. (n.d.). Bowhunter Ed. https://www.bowhunter-ed.com/pennsylvania/studyGuide/Archery-Safety/30103902_10081/
Archery Safety Rules: The Do's and Don'ts of Archery. (2022, August 1). Archery Care. https://archerycare.com/archery-safety-rules/.
Campbell, P. (2022, March 11). Ultimate Guide to Kids Archery Equipment. Archers Hub. https://archershub.com/ultimate-guide-to-kids-archery-equipment/.
Legend Outdoor Industries. (2018, August 1). KEEPING THINGS SAFE WHEN OUT WITH YOUR BOW. https://legendarchery.com/en-ca/blogs/archery-bowhunting-blog/keeping-things-safe-when-out-with-your-bow.
Must-Have Archery Safety Gear: A Simple Guide. (2018, January 4). Archery Up. https://archerylessons.info/blog/must-have-archery-safety-gear-a-simple-guide/.